2023 Rural Small Business Conference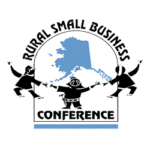 The staff at AVI is busy planning the 2023 Rural Small Business Conference on February 14-16. It's been a challenging couple of years, and it has changed many aspects of our lives, but this year RSBCs is going live at the Anchorage Sheraton Hotel.
We are returning for our 32nd RSBC Conference, including workshops, one-on-one sessions, a designated tradeshow, booths, and advertising opportunities.
We will also have a mobile platform to keep you on track with scheduled workshops, speaker bios, and live chat throughout the conference.
We continue to pave the way business is done in rural Alaska, and we need your help! If you are interested in attending, participating, or sponsoring this year, don't hesitate to contact us at 274-5400 or email us at rsbc@akvillage.com or visit our website www.alaskarsbc.org.
If you have questions about the conference, please give us a call.
Book your group rate for Rural Small Business Conference FEB 2023
You will find the information for your online reservation link below. If you have questions or need help with the link, please do not hesitate to ask. We appreciate your business and look forward to a successful event.