Alaska Village Initiatives (AVI) has received an Outreach and Assistance grant focusing on Socially Disadvantaged and Veteran Farmers. The Office of Partnerships and Public Engagement award will provide funding for developing and delivering an online series of agriculture courses that focus on providing food security through civil agriculture in rural Alaska.
AVI's program, From Food Deserts to Farms: Civil Agriculture in Alaska, will help villages eliminate hurdles related to starting localized programs by providing beginning and veteran farmers the skills to operate a farm successfully. Thomas Lyson defines civil agriculture as: food production for a specific community to that community; one is further connecting the community to be economically independent and socially unified.
From Food Deserts to Farms: Civil Agriculture in Alaska will provide training to socially disadvantaged beginning and veteran village farmers, provide training and experience on farmlands, provide online teaching on producing healthy food, and expose participants to USDA programs and capital sources. Our program will deliver 20 courses over three years. We will also hold an intensive five-day farm or classroom workshop for participants every year of the project, dependent on participation and educational needs.
Charles Parker, AVI President/CEO, notes that "community-based participatory development will help AVI build on its educational outreach to new socially disadvantaged farmers and veterans. The program highlights the ability to provide fresh vegetables for elder and village distribution, build community health through agricultural activities, teach new skills, and build a sustainable economy while providing jobs locally."
The program includes crop farming practices, entrepreneurship, business training, farm safety and awareness, food safety, and recordkeeping. From Food Deserts to Farms includes 20 courses will be delivered over three years beginning in early 2022. The AVI program will provide this need by leveraging technology, offering online classes and specialty content to end-users via satellite broadband internet, and an intensive on-farm workshop.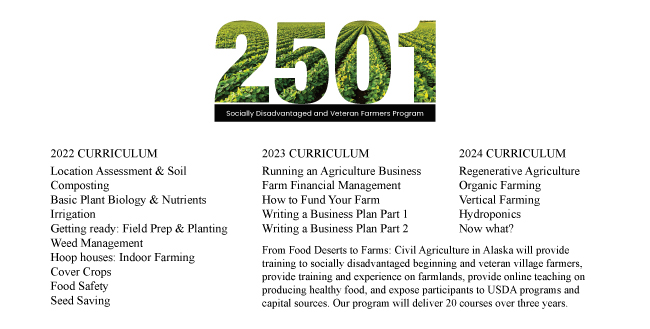 If you would like more information about this program or others like it, please feel free to subscribe to the AgAlaska newsletter.
If you are wanting to know if you community is participating or are interested in starting it in your community, contact us using the button below.