During the first week of August every year, farmers markets from Alaska to Florida celebrate everything that makes farmers markets important. As local food systems with short supply chains, they are resilient, dependable and provide an essential service to the communities they feed as well as the farmers and ranchers that rely on them. Not only do farmers markets increase access to fresh and nutritious produce, but they also facilitate personal connections between farmers, shoppers and community members. These important community benefits are not unique to farmers markets in the United States, and the World Farmers Market Coalition is thrilled to invite more market organizations from around the world to join in the celebration. 
This year's Farmers Market Week slogan is farmers markets don't just happen, highlighting the importance of farmers market operators and everything that happens behind the scenes to make vibrant farmers markets thrive in communities across the country. This is well aligned with the mission of the WFMC that seeks to support farmers market management around the globe and promote shared learning about farmers market operations across national lines.
To join in the celebration of International Farmers Market Week, farmers market organizations, organizations that work with food and agriculture, and anyone else interested in joining the festivity can use the hashtag #FarmersMarketWeek on social media and can tag the Farmers Market Coalition (@fmc.org) on all social media channels.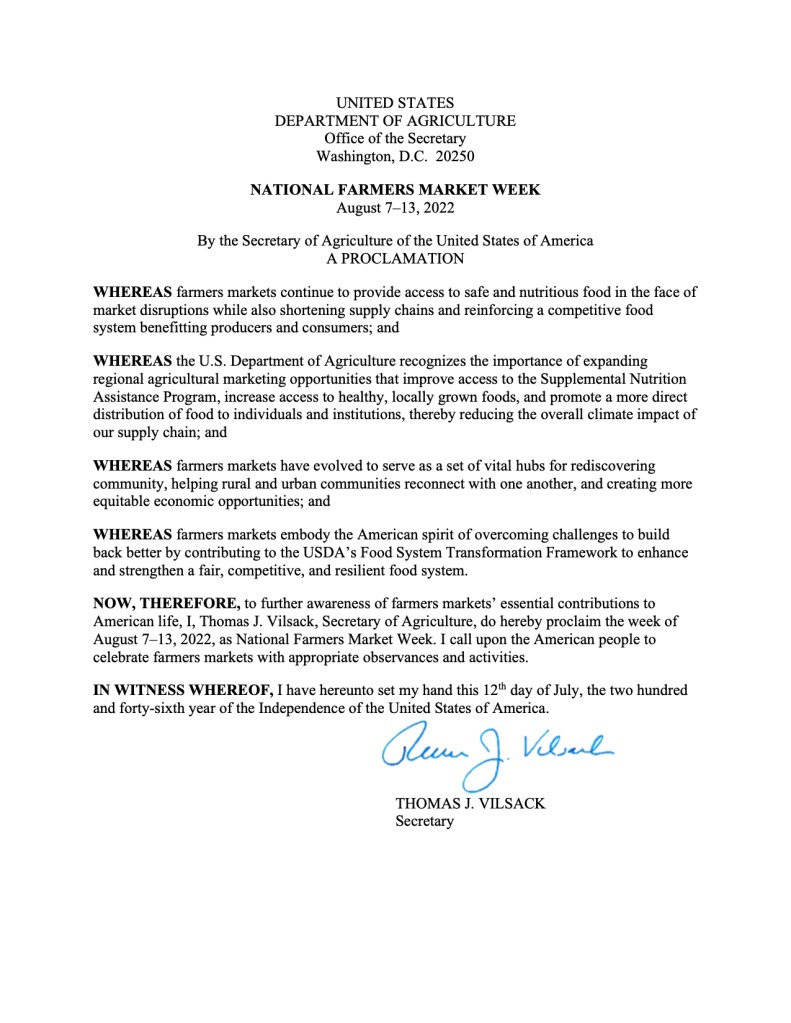 USDA has declared August 7th – 13th, 2022 to be National Farmers Market Week. Alaska Farmers Market is celebrating this event as Farmers Markets in Alaska generated more than $2.5 million in Alaska alone.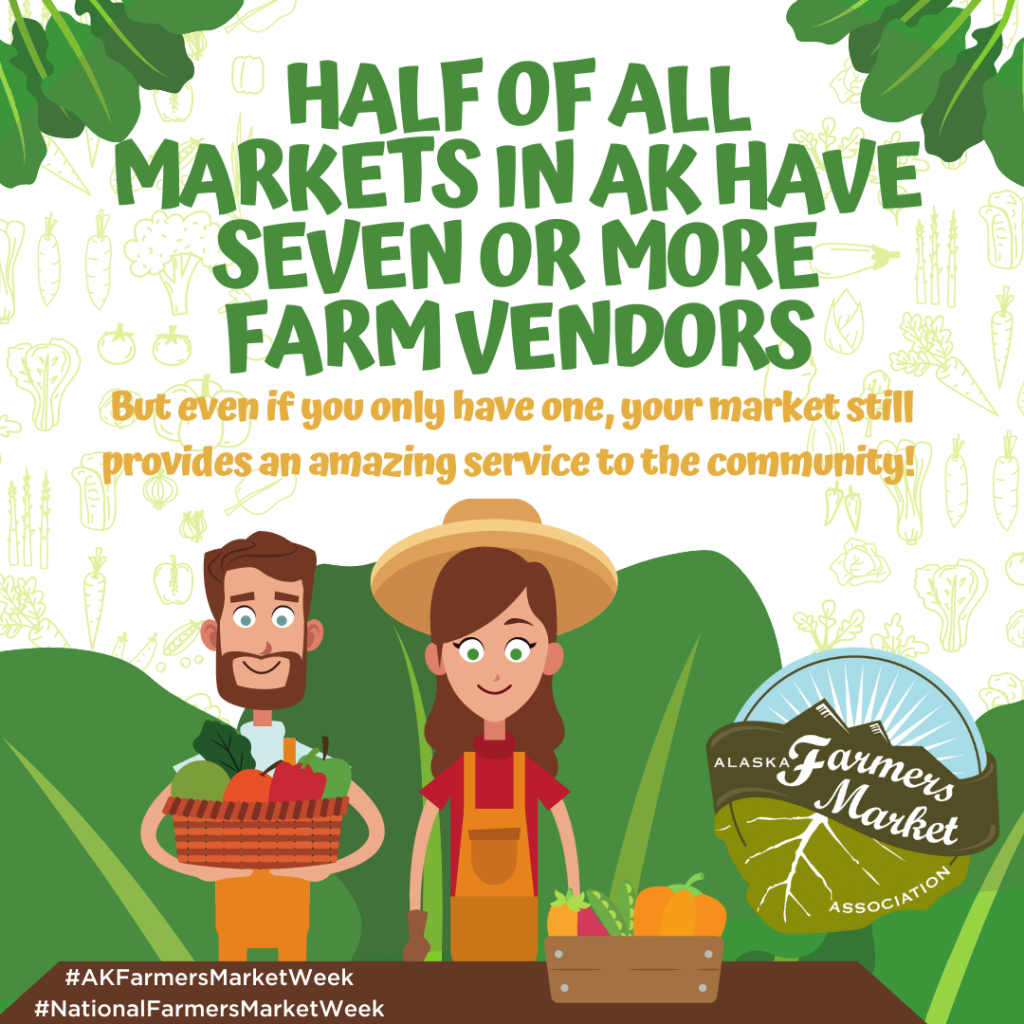 Last year our Governor declared Alaska Farmers Market Week, and we're hoping for the same in 2022. Alaska Farmers Markets Association is also asking markets and market supporters to reach out to your local city council and mayors offices to encourage local Farmers Market Weeks as well! 
National Farmers Market Week is a great opportunity to show the national how much value markets bring to their communities. Join in the fun nationally, state wide, and locally in your own towns! With fun events, specials, contests, and activities, the week helps to boost market attendance and visibility – while at the same time being loads of fun! Take a look below for proclamation templates and other resources to help celebrate.
To show your love and contribution to Alaska's Farmers Markets, join in on the photo contest fun and post your Farmers Market fun using Facebook and tagging the pictures with #AKFarmersMarketWeek and #lovemymarket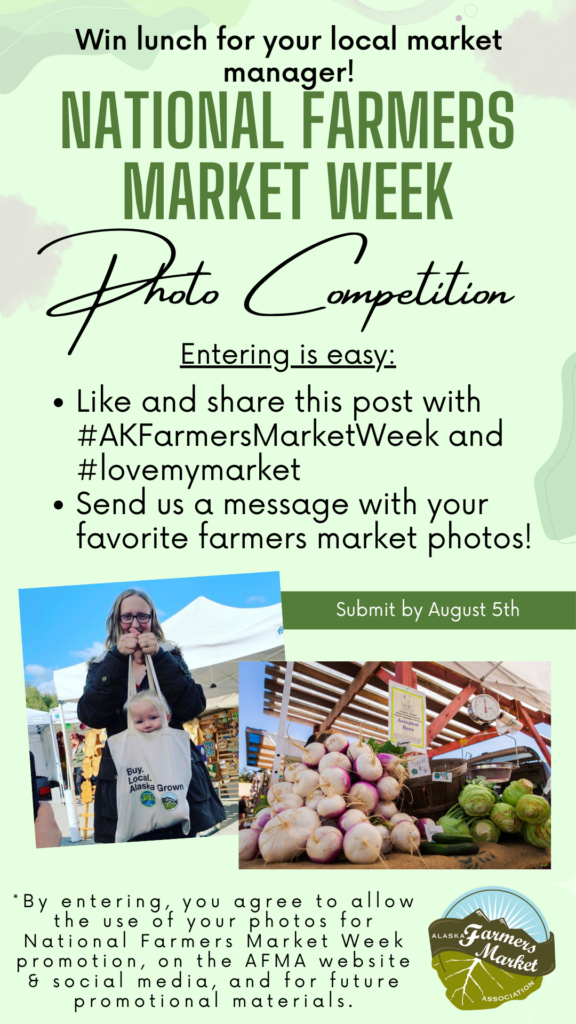 The World Farmers Market Coalition is participating in the FMC National Farmers Market Week this year, for the first annual International Farmers Market Week! AFMA is a proud member of the World Farmers Market Coalition and we're excited for them to help us celebrate markets in Alaska, across the nation, and abroad!
WFMC is a budding organization that brings together farmers market coalitions, association, and support organizations worldwide.