As summer wraps up we head into some of the most exciting times for growers, fair season! It's time for all growers, makers, canners, and everyone in-between to show off a years worth of hard work. Here in Alaska we have more than just one state fair and so we want to make sure everyone knows just how to find one that reflects where they live in our overly large state.
Southeast Alaska State Fair (Haines, Alaska)
The Southeast Alaska State Fair is in Haines, Alaska and was July 28th – 31st, 2022. So while already past it is the fair that kicks off Alaska's fair season each year. This is one of the shorter fairs at only 4 days long, but full of fun for the area. It is also one of the few fairs you can go to that is international as they open their fair entries to all in the area, even those from the Canadian side of things as they highlight the unique aspects of life so close to the boarder.
"The Southeast Alaska State Fair Showcases our unique way of life with a variety of showcases and contests that help us celebrate what makes us who we are.  From our Logging Show, to the Fishermen's Rodeo, to the Wearable Art Review – there's something for everyone in our communities to take part in!

What would a fair be without exhibits of the art, craft, crops, and kitchen science of our region?

The Southeast Alaska State Fair highlights the best of our region in Harriett Hall every year, from woodworking to photography to the most exquisite quilts from both sides of the border."

https://seakfair.org/fair/
Tanana Valley State Fair (Fairbanks, Alaska)
Tanana Valley State Fair covers the interior of Alaska and is the very next fair on the calendar usually covering the first week of August. This year it was July 29th – Aug 7th, 2022 and is a 10 day fair. Tanana Valley State Fair can be seen as the beginning of having fairs in Alaska as it is the oldest one in the state and has been running sense 1924. Currently the Fairgrounds encompasses 100 acres, the length of the Fair has increased from 3 to 10 days, and the 100th anniversary is right around the corner in 2024! It also have themed days for the fair were either you can get in cheaper if you are apart of the theme or sponsor group or they will being giving out extra information about the sponsor that day. This years theme for the whole fair was: Sheep Herders in Paradise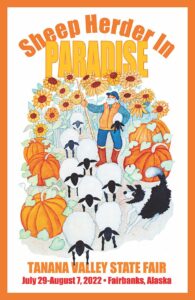 Tanana Valley Fair's Official Colors: Red, Orange, Yellow
Official Flower: Sunflower
Official Fruit or Vegetable: Pumpkin
Alaska State Fair (Palmer, Alaska)
As the grand daddy of state fairs in Alaska, the Alaska State Fair in Palmer, is touted as the longest of all of them and incorporates as much as possible of all aspects of Alaska as possible. This year it will be running from August 19th – September 5th, 2022 but will be closed Tuesdays and Wednesdays, which is a newer aspect to have but helps out venders with restocks and makes sure burnout does not happen. The Alaska State Fair is where the big veggies go, it will be the 16th Annual Midnight Sun Great Pumpkin Weight Off this year and of course will have the 26th Annual Giant Cabbage Weight Off as well. Events such as these really stand out and are part of the reason this fair is often on many tour guide lists as a must attend event for visitors to our state.
Kodiak Rodeo & Fair (Kodiak, Alaska)
Held ever sense 1968 the Kodiak Rodeo and Fair started off as a youth community project and as just a rodeo before expanding to consider its self a fair as well. As the 51st annual rodeo this year will be held Labor Day weekend, September 5th & 6th, 2022 and the Fair entries are available to be dropped off September 3rd & 4th and they will judge them Friday evening. Enjoy seeing the community gardens grown on the fairgrounds.